Home is Where the Cow Is
by Michele Meyers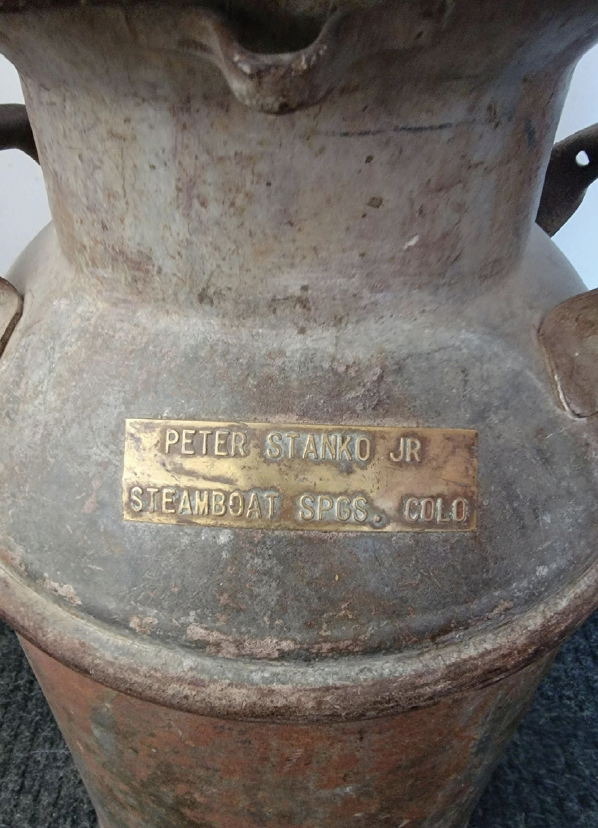 THE YAMPA VALLEY is one of those places that brings a sense of being "home" through different feelings for each of us. While there are a wide range of reasons people come here, a common theme is the natural beauty of the area and the sense of community. Those scenic open spaces that include fields of hay and grazing cattle are working landscapes. The views are what make the Yampa Valley a truly unique community, but they are not free. Rather, the iconic images of horses and barns are from local working agriculture. Understanding the past, present and future of local agriculture creates an appreciation for the place ag holds in sustaining healthy food sources for the local community and contributing to the environment many people consider home.
With the significant amount of growth over the past several years, it is more critical than ever to have a historical perspective on agriculture in the Yampa Valley. Throughout the years, beef cattle, sheep, wheat, barley, oats, hay, alfalfa, and dairy cattle have been the recognized agricultural commodities in Routt County. The first cattle were trailed into the region in 1871 and by 1880 there were 65,000 head in the area for summer grazing. For many years it was said that there were more cattle in the Yampa Valley then people. The first band of sheep appeared in 1890 leading to the infamous Cattle-Sheep Range Wars that plagued the region for almost three decades. When the railroad entered the valley in the early 1900s, the economic affects for agriculture were immediate. Rail transportation allowed needed supplies to be imported and agriculture products to be exported. In 1910, the Routt County Strawberry Company loaded 528 crates of fresh, handpicked strawberries onto the train for shipment to the front range of Colorado. By 1913 more cattle were shipped from the Steamboat railyard than any other single point in the United States. Vegetable production also flourished, and by the early 1920s, Routt County farmers were planting over 500 acres of peas and 2000 acres of lettuce and spinach annually. Potato crops were yielding 7.5 tons of potatoes per acre. In 1926, Routt County shipped 720 train carloads of head lettuce to California alone. Produce was kept fresh on ice blocks that were harvested in the spring and stored in ice sheds. Looking closely along the highway in South Routt, remnants of old ice sheds can be seen along the railroad tracks.
Cabbage, cauliflower, celery, carrots, turnips, rutabagas, and artichokes were also raised. During the same time, increased acreage of wheat, barley, and oats were planted. By 1922 Routt County led all Colorado counties in dry-land yield production of these small grains. During the 1930s, Hayden was the largest rail shipping center in the United States for lambs. At different times during the 40s, 50s, and 60s, there were medium size dairies throughout the region. Supermarkets and grocery store chains were not part of the community yet. Almost every family ranch had a small herd of dairy cows. Milk and cream were shipped to Denver via the train in five- or ten-gallon cans with family names on them. Steamboat boasted a factory that produced powdered malted milk, and the county had four grain elevators to handle the volume of grain being produced in the region. Needless to say, the Yampa Valley looked very different a generation ago.
Today agriculture is still important to the core of Northwest Colorado. Local agriculture contributes over 46 million dollars annually to the local economy and is the root of the area's authentic western heritage. The enduring iconic images of working landscapes and open spaces are a driver in the current tourist economy. Over the years, the view has changed and local agriculture now mostly centers around cattle, sheep and hay production. The reasons for the demise of larger scale vegetable production vary, but were mainly impacted by changing economics and weather patterns. In an area that sees frost, 90-degree temperatures, drought, snow, and rain in any given month, it is difficult to raise crops that need extended growing seasons. The financial return of these commodities did not cover the costs of production, which include land and equipment prices, infrastructure requirements, labor availability and management of regulatory requirements.
Current agriculture production in the Yampa Valley has changed in many ways but the heritage and roots remain the same. The US Census Bureau completes an Ag Census every five years. 2017 data reported 887 farms and ranches in Routt County, an 11% increase over 2012. The majority of the farms and ranches are smaller than fifty acres and have minimal sales of ag products. In terms of total acreage for all of agriculture, almost 30% of the land in Routt County is classified as agricultural. This data paints a picture of many small farms and ranches, with little commercial production. However, family run ag operations continue in the Yampa Valley. There are ten Centennial Ranches in Routt County, proud hard-working families that have continuing ag operations within the same family for over 100 years. There is much to celebrate with the Yampa Valley's ag heritage and current ag productions. The
economics continue to be a challenge and rising land values place increased pressure on families trying to stay in agriculture, but the future remains hopeful.
New farmers and ranchers bring renewed energy and innovative ideas to the Valley. Less than five years ago there were no vegetable CSA's (community supported agriculture, or weekly boxes of seasonal produce). Today there are five thriving local farms that offer CSA's shares and sell their produce locally at the farmers market and Community Agriculture Alliance (CAA) Market. Season extension, drip irrigation systems, greenhouses, technology, and lots of hard work allow them to provide fresh local vegetables for the community. It was not very long ago that one needed to literally know a local rancher (or 4-H or FFA youth) to purchase local meat. As interest and demand for local food exploded during the past 18 months (a unique silver lining of COVID?), more local ranchers are selling meat locally. Challenges remain in the local food system with increasing production expenses, a limited labor pool, processing limitations, and a lack of storage and distribution infrastructure.
A changing and variable climate brings additional challenges to agriculture in the Yampa Valley. The ongoing drought and working to protect agricultural water rights while maintaining a healthy Yampa River are critical to supporting agriculture. Understanding the water cycle of snow, runoff, irrigation, return flows, and the impact to agriculture is critical. The saying, "If you eat, drink or wear clothing then you are involved in agriculture," remains true today.
There is no denying that the Yampa Valley has changed. However, looking back, the past helps shape an understanding of the current landscape and the need to preserve the area's ranching and agricultural heritage in order to provide food resources for the community and the country. While no one knows how the community will look in the next 20, 30 or 50 years, this land will always be a special place that people want to call home. MM
ELEVATE THE ARTS: Given the challenges of connecting agriculture with the community, Community Agriculture Alliance was established by a diverse group of community members in 1999 to provide leadership, support, and programs for agriculture in the Yampa Valley. Through advocacy, partnerships and direct programs, CAA leads the community to enhance agriculture and create alliances. CAA's programs work to ensure the vitality and continuance of agriculture, promote local agriculture, provide education, resources and connections for local ag producers, and bring meaningful connections to local ag for visitors and area residents. Over the past several years, CAA has become known for the CAA Market, a local food market. With over 70 local producers and hundreds of local food products, it has become an easy way for anyone to shop and eat local. CAA does not do this work alone. Partnering organizations such as the CSU Routt County Extension, CO Cattlemen's Agricultural Land Trust, Routt County Conservation District, Routt County Cattlewomen, and many others all work on behalf of local agriculture. Buy local food from the CAA Market in downtown, Steamboat Springs, CO.
Learn more about water issues and the impacts in northwest Colorado by becoming involved with The Yampa White Green Basin Roundtable and Yampa River Fund.